Kubota engineered the M5N to specifically work in vineyards, orchards, or anywhere else that might require narrow tractors that feature M-Series power.
Strong heartbeats under the bonnet of the M5001N. The new V-3800 TIE 4F 4-cylinder engine with a 3B emission level provides between 73 and 105 HP (according to 97/68 EC). The models M5071N (73 HP), M5091N (92-93 HP), and M5101N (103-105 HP) are available both as cab tractors as well as DTH tractors (open platform with rollover protection bars). This is made possible by Kubota's leading position in diesel engine technology. The outstanding reliability, strength, and cleanliness of the engines of the three models will impress you.
The M5071N has a sizeable 3.8 l engine under the bonnet – which is unique in this horsepower class and gives the model the right power for all jobs. The DTH tractors also have a special feature, they actually reach their maximum performance at 2,400 rpm, rather than at 2,600 rpm like the cab tractors. You will surely appreciate the lower noise level.
The diesel particulate filter in the new engine reliably reduces emissions. The two electronic engine settings provide convenient quick adjustments for repetitive work. Which is not only useful but also saves time.
The engines also have a new electronic speed control with which you can control the speed of the engine. Once the RPM mode system has been activated, the speed remains constant, even when the demand for power varies. As a result, PTO-driven implements can be run with constant efficiency. Operations are bound to include a number of recurring tasks, such as certain PTO-driven jobs. That is where the integrated speed memory comes into play. You can call up the respective settings with the push of a button, and you're ready to go, without any further adjustments.
The M5001N provides a further innovation when it comes to the fuel tank: Instead of three tanks, like its predecessors, it has only two large tanks on the bottom side of the cab. This provides not only more capacity and thus longer usage times, but also higher tank comfort. The tank of the DTH tractors holds 76 l and is therefore even bigger than the previous versions. An additional plus: The new tank design gives you better visibility towards the rear, as a rear tank is not required. And since there are two tanks instead of three, the fuel gauge is also more accurate.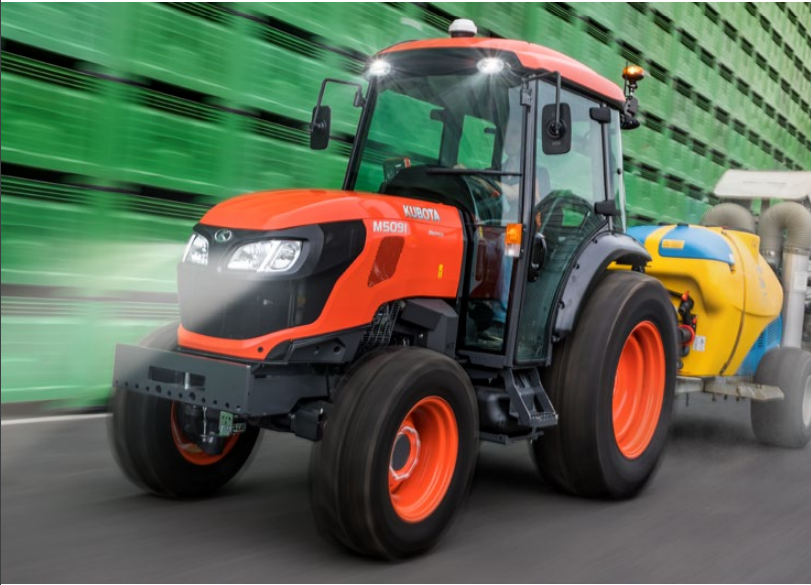 Narrow enough to work between vines and powerful enough to be part of the M-Series line-up
Kubota engineered the M5N specifically for work in vineyards, orchards or anywhere else that might require a narrow tractor that features M-Series power. With an intelligently revamped operator station, improved hydraulic capacity and an updated V-3800-Tier IV engine, the M5N deliver on Kubota's proven versatility, dependability and strength.
Transmission
With the Kubota M5001N, you can choose between two types of transmissions: one transmission with 18 forward and reverse gears and a comfort transmission with 36 forward and reverse gears with dual-speed powershift speeds. Regardless of which one you choose – it'll be a good choice.
With great efficiency at low and high speeds, the finely harmonized and smooth-shifting transmissions stand for shifting pleasure, reliability, and economy. Another improvement is the non-clutch button as a standard feature on the 36/36 gearbox, the non-clutch button supports the operators comfort with easy gear shifting, just press the button and shift among the 6 gears.
Performance
The M5001N is a highly productive professional vehicle for demanding tasks. In orchards, fruit cultivation, and vineyards. It delivers the highest levels of agility, versatility and performance.
Control
With the optional IsoMatch Tellus monitors, you can turn your M5001N into an ISOBUS control tractor. You can take your work to a new level of efficiency ,saving time and resources, and therefore money
Redesigned cab
To promote operator efficiency all main controls are on the right-hand side of the operator while the steering wheel has 40 degrees more tilt. Dual side mirrors and an easy access fuse box are standard.
Updated engine features
TheM5N has an updated V-3800- Tier IV engine which has a common rail fuel system, intercooler, exhaust gas recirculation and employs a diesel particulate filter and a selective catalytic reduction for minimized emissions. Additionally, it has an increased alternator capacity (130A), larger radiator, larger diameter cooling fan, and RPM memory for repetitious actions.
Optimization
Retrofit kits make the M5001N fit for Precision Farming. Take advantage of the many possibilities offered by this state-of-the-art technology for the efficient and environmentally friendly management of your land.
Value Protection
Kubota tractors offer proven quality and excellent performance. Kubota offers you a two-year warranty on the M5001N, which you can opt to extend to five years with the Kubota Care package.
Finance Management
The M5001N stands for productivity and efficiency in your work With Kubota Finance, you can invest in technology that will make an important contribution to your business. Bespoke finance packages allow you to tailor payment options to suit your business needs.
Improved hydraulics
The M5N has more standard rear remote valves than before, now offering two valves as standard. With 18.1 gpm hydraulic flow, an optional third, fourth or fifth remotes, and all valves being independent flow control valves, the tractor is ready to accept implements requiring multiple valves.
Source: Kubota Canada Ltd.