Kioti Tractor, a division of Daedong-USA, Inc., delivers land owners a durable and versatile new tractor series. The CX Series compact tractor is the perfect workhorse for the whole property—small enough to fit into tight spaces, and large enough to handle the dirty work.
The series boasts two ROPS models with either a manual (CX2510) or HST (CX2510) transmission, both with 24.5 engine horsepower and PTO horsepower ratings of 19.3 and 18.8, respectively. The HST model offers dual HST pedals, which provide easy forward and reverse movement with smooth engagement.
"Our new CX Series gives customers a compact but capable solution. The performance and convenience of this compact tractor series was designed with the operator in mind and includes a long list of impressive features."
said Peter Dong-Kyun Kim, president and CEO of Daedong-USA, Inc. KIOTI Tractor Division.
For operator comfort, the CX Series comes standard with a spacious open platform and tilt steering wheel to accommodate a broad range of operators, an illuminated dashboard for day or night use and adjustable seat suspension for an enjoyable, smooth ride. Additionally, the CX2510 HST model includes a dual pedal hydrostatic transmission delivering power smoothly and efficiently and cruise control reducing operator fatigue.
The Tier 4 compliant engine provides powerful performance and fuel efficiency with low noise and vibration, while the single piece hood allows easy access to the air filter, fluid service, fuse box and electrical components.
The category I three-point hitch allows for easy installation of implements, making multiple jobs quick and efficient, and an array of available attachments including the KL2510 front end loader with standard quick attach bucket and the KB2465 backhoe enable further versatility for many uses throughout a property.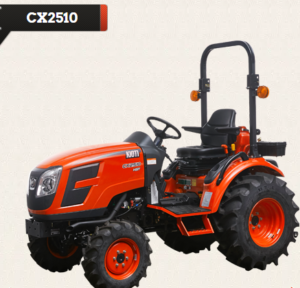 Source: Kioti Tractor