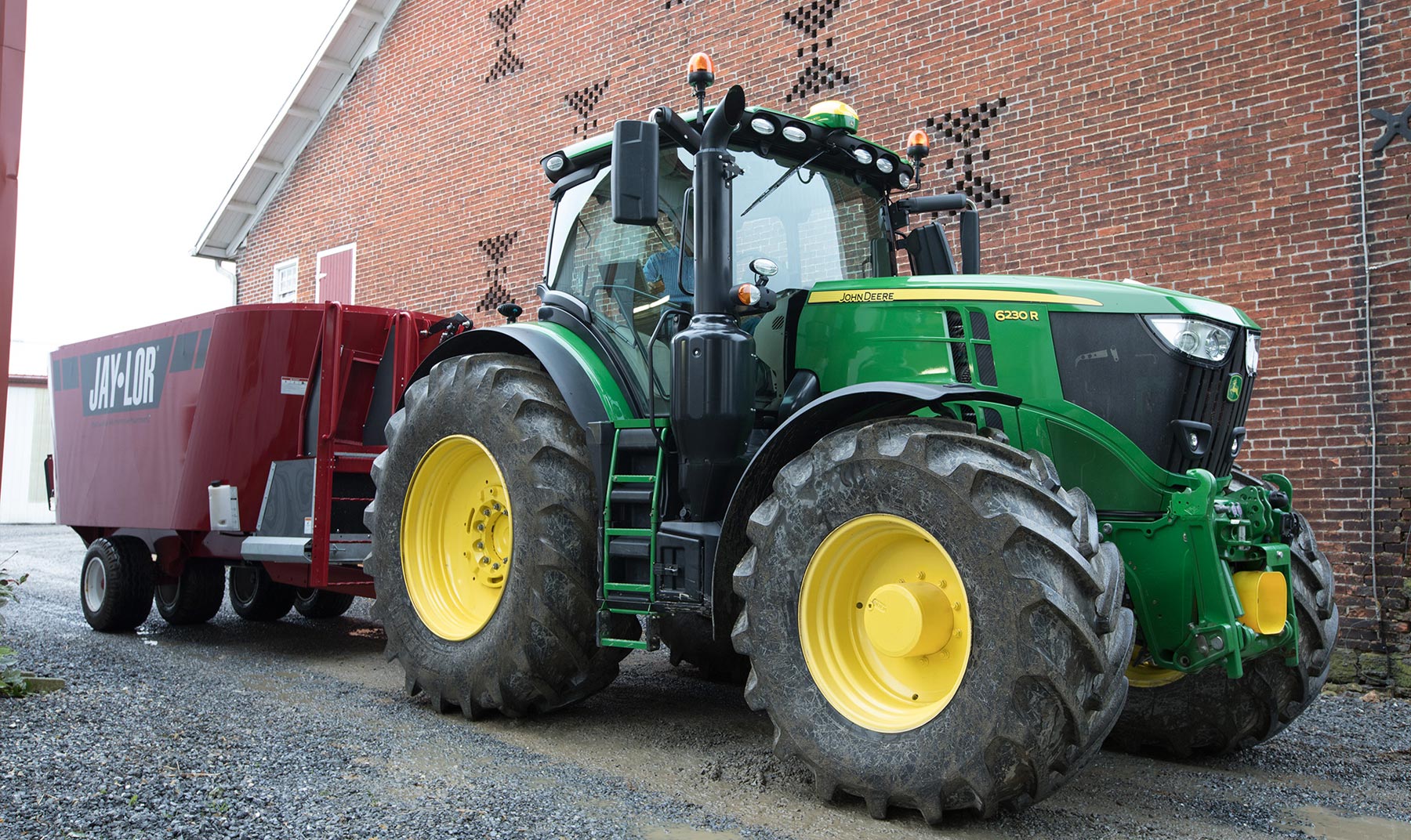 Deere has strengthened its lineup of 6R Tractors by adding two more models, the 6230R and 6250R that bring customers faster, stronger, smarter tractors in the 6 Family that excel in hauling, transport and loader work.
Both models are loaded with new levels of power and premium features to make them an ideal choice for hauling hay, forage and slurry, yet versatile enough for loader and PTO work. The 6230R and 6250R Tractors expand the upper limits of horsepower available for the 6R lineup, delivering 230 and 250 rated engine horsepower respectively. When power bulge and John Deere Intelligent Power Management (IPM) are factored in, the larger 6250R is capable of up to 300 horsepower.
"Livestock, dairy and hay producers will appreciate the power of these tractors, especially when they need to haul heavy loads or want to reach optimal transport speed more quickly. The performance and versatility of these tractors makes them a solid choice for loader and PTO work such as baling," said Anne Anderson, product marketing manager with John Deere.
To ensure quick acceleration, John Deere included an Infinitely Variable Transmission (IVT) as base equipment on the 6230R and 6250R. When ordering, customers have two IVT choices – one capable of a 25-mph (40.23 kph) top speed, or one with a 31-mph (49.89 kph) top speed. Using the stepless IVT, operators can match the exact speed desired for any application ranging from 0.03 mph (.05 kph) up to 25/31 mph (40.23/49.80 kph).
"The IVT saves time and money and lets operators choose the optimal speed for implement performance or transport. Since they're shifting less to adjust speed, they can focus more attention on implement performance or other important tasks," said Anderson.
A factory-installed Generation 4 4200 CommandCenter™ with an 8.4-inch (21.3 cm) color display is another premium feature included as base equipment, or customers can upgrade to the optional 4600 CommandCenter. Customers can also add Field Documentation with an AutoTrac™ activation and Section Control and Wireless Data Transfer if desired.
Compared to the 6215R, the 6230R and 6250R feature a frame that's four inches (10.2 cm) longer and contributes to enhanced ride quality. Both tractors are factory-equipped with Triple-Link Suspension™ Plus (TLS™ Plus), which utilize two double-acting-control cylinders that act independently or together to dampen shock loads, while supplying a constant downforce on the axle for better traction. The suspension further improves ride comfort and traction during transport or in the field as well as increases pulling performance up to 10 percent. TLS Plus is base equipment.
To take this level of comfort and performance to the next level, TLS Plus gives operators three modes to choose from using the tractor's Gen 4 CommandCenter. These modes include Auto, Max or Manual. Auto mode reacts to changes in travel speed, draft characteristics and implement weight to provide an optimal ride. Max mode delivers maximum suspension stiffness for loader work. In Manual mode, the tractor's suspension can be raised or lowered to a specific height, making the attachment of front implements easier.
Another premium feature John Deere included as base equipment is JDLink™ telematics – technology that tracks machine location, engine hours, and analyzes machine and fuel usage. With JDLink, customers can also create geofence and curfew alerts and monitor maintenance details and progress.
In addition, customers can utilize Remote Display Access, Service ADVISOR Remote and Expert Alerts to track machine uptime and analyze proactive diagnostic alerts. "This technology can track machine uptime and provide customers with proactive diagnostics. With this information customers can make better informed and more timely decisions while reducing trips to the field," said Anderson. "Using Wireless Data Transfer, customers can even send field prescription and documentation files directly to the tractor while it's in the field."
Other productivity-boosting options available include CommandPRO control, variable-ratio steering, factory-installed front hitch and front PTO.
First introduced last summer on 6R Tractors, CommandPRO is a single, customizable, ergonomic lever used to control tractor speed, direction and implement functions. Top speed and zero speed can be reached more quickly with one push or pull of the CommandPRO lever. Inching control makes implement hookups easier. To control tractor speed, operators can move seamlessly between pedal mode and lever mode. Configurable buttons enable operators to customize controls to best fit the job or their personal preference. Settings can then be saved as specific profiles for easy access in the future.
Variable-ratio steering reduces steering wheel rotations by one-third when traveling at speeds less than 9 mph (14.5 kph). "When running the machine, less steering effort and arm movement is required from the operator, this is especially beneficial when making headland turns or doing loader work," said Anderson. All 6230R and 6250R Tractors are AutoTrac Ready equipped so variable-ratio steering can be activated using the Gen 4 CommandCenter.
Even while equipped with a front hitch and PTO, the 6230R and 6250R can be fitted with a John Deere 680R Loader and still utilized for loader work, helping customers maximize their equipment investment.
Source: deere.com