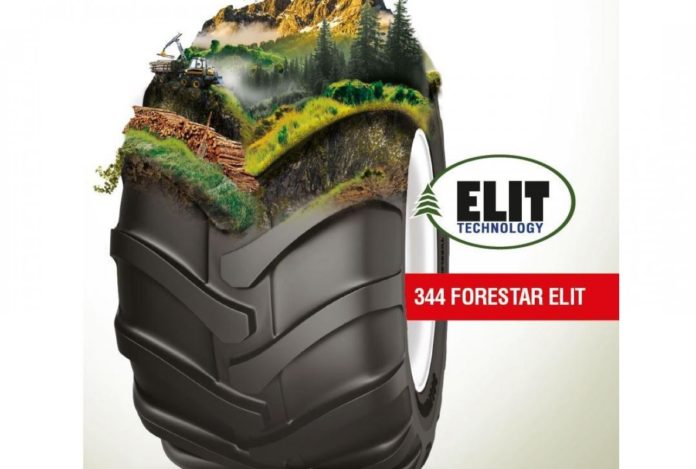 Alliance Tire Group will use Interforst from 18 th to 22 nd July in Munich to showcase its increased tire portfolio for highly demanding forest applications. As true world's first, the low inflation pressure tires of the Alliance F344 ELIT series offer unrivalled soil protection as they carry the same loads when compared to standard forestry tires with markedly reduced inflation pressure. With Alliance Forestar 643 III and Alliance Forestar 644 III, ATG also presents two highly innovative forest tires which are distinguished by maximum traction and reliable performance under all circumstances.
Convincing results for Alliance F344 ELIT
Based on years of research and expertise, ELIT (Engineered Low Inflation Tire) is characterised by a larger footprint, lower soil pressure, high traction and enhanced fuel efficiency. Special tread compounds and steal reinforcements ensure excellent durability and a long service life along with exceptional performance and stability also when operating with reduced inflation pressure and in extreme working environments. Tested in practice by the German forestry contractor Kohler GbR on a HSM 208F forwarder for five years, the Alliance F344 ELIT delivered a perfect performance and left the test customer equally impressed and fully convinced.
Forestar 643 III and Forestar 644 III: Superior performance with and without tracks
With the Forestar 643 III and the Forestar 644 III, ATG presents two new patterns in the renowned Forestar series. Both tires were developed for maximum traction and optimum performance under all circumstances. In addition to the heavy sidewall profile and the heavy tread under the pattern of Alliance's Forestar III series tires, the low sidewall deflection is yet another key feature: The sidewalls will not deflect more than 5 % even with 100 % load, thus ensuring maximum stability. The improved heavier nylon construction and special steel belt of the Forestar 643 III make for high load carrying capacity and excellent puncture resistance. Whether used with or without tracks – the Forestar 643 III reliably delivers maximum traction along with outstanding stability and excellent self-cleaning abilities. With its dual lug angle, the tread design of the Alliance Forestar 644 III equally is a synonym for maximum traction. Due to the tire's sturdy construction with improved heavier nylon, special steel belts and the hexagonal bead technology, this tire offers excellent puncture resistance, high load carrying capacity and durability along with excellent stability and ride comfort.
The press meeting will take place at our booth FS.1012/1 at 11:00 am on 18th July. Of course, you can visit our booth at Interforst 2018 (July 18-22) in Munich www.interforst.com at any time to get more information about our brand-new Alliance F344 ELIT (Low Pressure) tires. Our booth is located at FS.1012/1.
Source: Alliance Tire Group (ATG)