Atlas Tree Surgery Relies on Sennebogen Tree Care Machines for Cleanup Work After Wildfires in California
Atlas Tree Care Surgery, a tree care services company based in Santa Rosa, California, has grown considerably in many ways in recent months. In August 2020, the company took delivery of its first Sennebogen machine, a 718 E tree care handler. Since then, six material handlers have been added and more machines will be making their way overseas in the coming weeks.
The Sennebogen timber material handlers first came to the attention of Rich Kingsborough, head of Atlas Tree Surgery, at a machine demonstration and he was immediately impressed:
"I knew these machines were going to be game-changers for our industry."
Since then, not only has the team's fleet grown, but so has the company itself. By more than 150 employees in recent months specifically, due in no small part to the catastrophic wildfires in California. The so-called "August Complex" goes down in history as one of California's largest wildfires, affecting more than 418,000 acres. The cleanup efforts continue to keep the company busy today and brought in many new projects, which are now supported by the deployment of seven Sennebogen material handlers.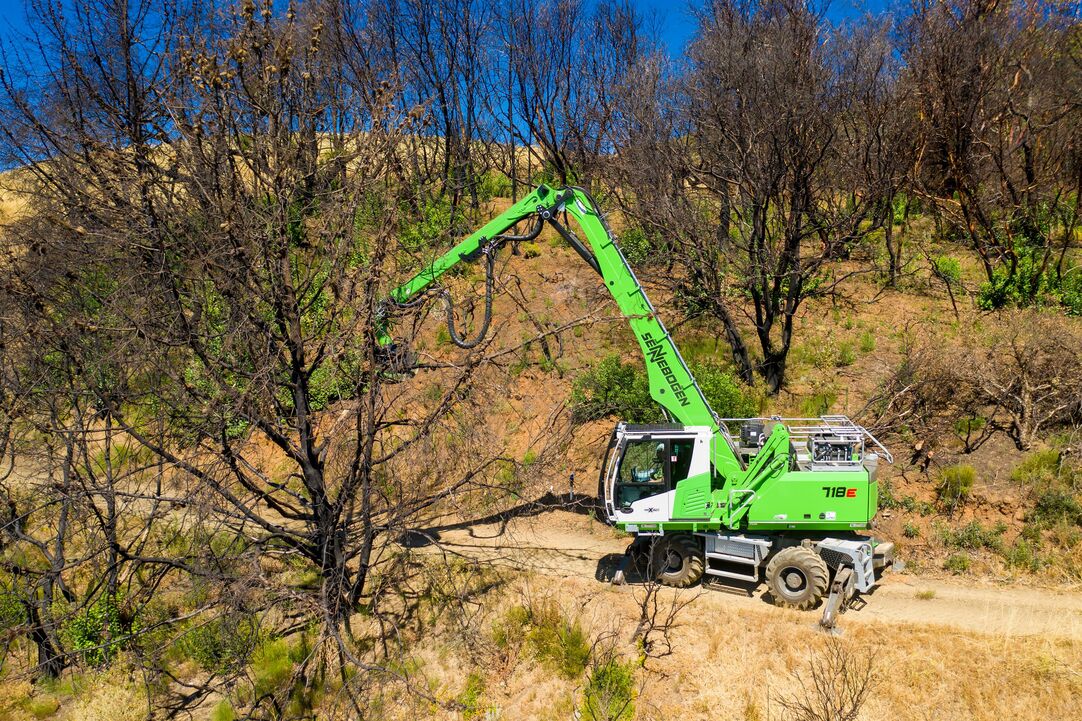 Fleet of Six Sennebogen 718 E in Mobile and Crawler Versions, Plus One 738 E in Tree Care
In total, the company's fleet already includes five 718 E mobile material handlers, one 718 E with a crawler undercarriage and the largest model from the forestry range, the 738 E. The 718 E was chosen, among other things, because of the high flexibility offered by its low operating weight of just 21.4 tons. This means that the tree care handler can be easily moved from job to job with the help of a flat-bed truck. The powerful hydraulics in combination with a grapple saw on the 13 m telescopic boom are specially adapted to precise tree felling work and are therefore the ideal solution for demanding operations. Working with the 123 kW powerful machine is also facilitated for the operator by the adjustable cab, as well as the 360-degree rotating upper carriage, which allows safe and controlled grabbing, sawing, and placing of logs to the side.
Safety and Efficiency through the use of a Sennebogen 738 E
At the heart of the fleet is the 738 E, which delights operators with its equally fluid, precise and fast operation. The reach of up to 23 m also enables complex operations for which Atlas Tree Surgery would otherwise have to call on several climbers, as well as a crane. The 738 E now does the same job in less time, with less manpower and without the need for additional heavy machinery. Kingsborough also particularly emphasizes the safety factor,
"Any time you can take a climber out of a tree, you've made the job safer. These machines make a really dangerous job easier and safer. Even more so, we were able to successfully and efficiently complete projects we had budgeted two months for within six weeks."