Mordor Intelligence released an overview of orchard tractor market growth, trends, and forecasts for 2020-2025, segmenting the market by horsepower and geographical location.
Market Overview
The global Garden and Orchard Type Tractors Machinery market is forecasted to grow at a CAGR of 4.5% during the forecast period (2020-2025).
Increasing farm mechanization rates, especially in developing countries, and the rise in farm labor cost are the major factors attributing the growth of the market studied.
North America occupies the major share in orchard tractors market. The rising trend of homegrown fruits and vegetables in this region is the key driver for market growth.
Deere & Company, CNH Industrial N.V., Mahindra & Mahindra Ltd and Tractor, and Farm Equipment Limited are some of the global players who are operating in this market.
Scope of the Report
For the purpose of this report, the tractors used in agricultural operations, especially Less than 20 HP, 30 HP, and 30-40 HP tractors are considered. Tractors used for orchards and garden purposes are included in the study.
By Horsepower

Less than 20 HP
20-30 HP
30-40 HP

By Geography

North America

United States
Canada
Mexico
Rest of North America

Europe

Germany
United Kingdom
France
Rest of Europe

Asia Pacific

China
Japan
India
Australia
Rest of Asia-Pacific

South America

Brazil
Argentina
Rest of South America

Africa

South Africa
Rest of Africa
Key Market Trends
Rise in Technological Advancements is driving the market growth
There is a growing need for farm mechanization in the region, as farmer income has not been able to keep pace, such as to cater to the increasing cost of production. Farmers across the globe are looking for tractors with tailored features, which can fulfill their needs for effective farming. So, in order to meet consumer demand, many international agriculture machinery manufacturers such as Deere & company are coming up with new technologically-advanced orchard tractors, which can handle critical operations in harvesting crops such as apple, cherries. With the rise in the number of innovative orchard tractor launches are making consumers impulsive towards their purchase, which, in turn, is boosting the sales of orchard tractors.
North America is Dominating the Orchard tractors market
The continuous rise in farm labor wages due to labor shortage, especially in fruits and vegetable plantation has had a positive impact on the demand for tractors in this region, as farmers are increasingly adopting agricultural mechanization including tractors as a substitute for manual labor. The wave of modern technology has already been witnessed in orchard tractors with the application of Artificial Intelligence-based tools for data transmission, for precise decision-making processes in cultivation. The rise in technological advancements in orchard tractors coupled with the decline in farm labor shrinkage is driving the demand for orchard and garden tractors sales and is expected to grow further during the forecast period.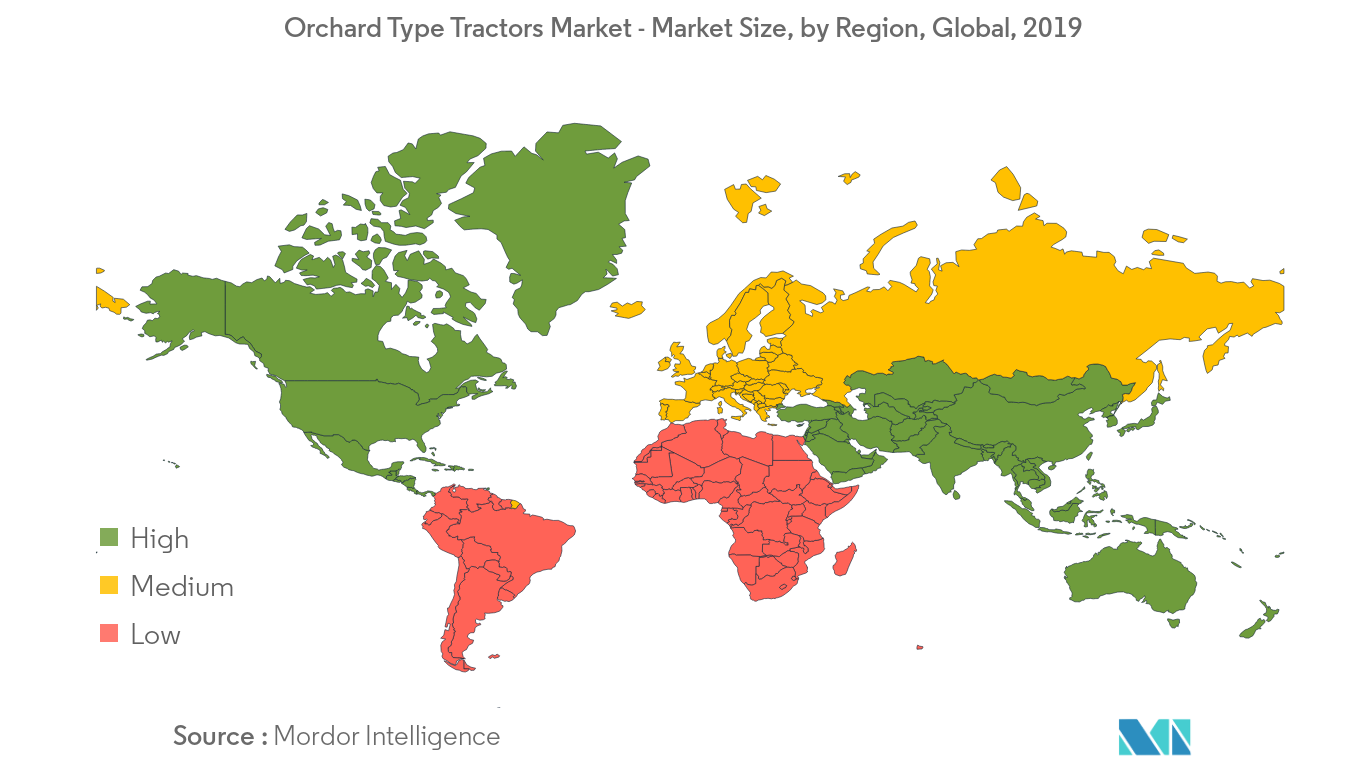 Competitive Landscape
The global Garden and Orchard type tractors machinery market is fragmented with the presence of many of regional players. Deere & Company, CNH Industrial N.V., Mahindra & Mahindra Ltd and Tractor, and Farm Equipment Limited are some of the global players who are operating in this market. Product Innovation and expansion are the key strategies adopted by these players to strengthen their presence in the global garden and orchard type tractor machinery market.
Major Players
Deere & Company
Kubota Group
CNH Industrial N.V.
Mahindra & Mahindra Ltd.
Tractor and Farm Equipment Limited