Dean Wolfe is a Construction Equipment Territory Manager in Regina and has been working at Redhead Equipment for 35 years. He started out working in the steam bay washing and painting equipment. He then became a Service Field Tech, working his way to Shop Foreman, Service Manager and finally to sales where he has been for the past 20 years.
One of the biggest challenges of his job is managing time to commit to a customer fully, partially committing is not an option:
"If you have questions coming from a customer at 8 o'clock at night you have to do what you can to fulfill their needs, no matter the time of day." Dean also mentioned his favorite part of the job is meeting and visiting with customers in their environment, seeing them operate their equipment and ensuring we meet their needs. "When you deliver a piece of equipment and see a satisfied customer and then deliver the second piece of equipment and know you have a repeat customer, it's just so satisfying,"
Dean says.
When asked what makes Redhead Equipment great, Dean's reasoning for the company being around for so long is the reputation and dedication of service to the customers:
"We treat them like family,"
he says and goes on the mention of how the environment, the family atmosphere and happy people at Redhead make working for the company an enjoyable experience.
"I've devoted the majority of my working career to Redhead Equipment and I wouldn't change it. I got a great opportunity to work with construction equipment and everyone wants to, I'm really just a big kid."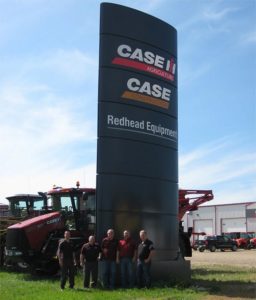 Source: RedHead Equipment